Brands I love, Part 1
I never used to consider myself a watch man. There was a time when I could not imagine spending thousands of dollars on something whose basic function was simply to tell the time: something most items around you can also do, from the mobile phone in your pocket to the microwave oven in your kitchen.
That all changed about 10 years ago. The company I was working for had been doing very well and I decided to cash in a portion of my stock options. Suddenly I had cash, more cash than I had ever had at any moment in my life, and I felt the occasion called for some kind of ostentatious, yet respectfully commemorative purchase. That's how I came to buy my first Omega, the Speedmaster.
Omega Speedmaster
The reason I gravitated towards Omega is easy to understand: it's the watch brand I most associate with my heroes. My father, who passed away when I was 19 years old, wore an Omega Dynamic. Omega was also the watch of choice of the astronauts of the NASA space program.
Although the Omega Speedmaster was initially developed as a sports and racing chronograph in 1957, it was later endurance-tested (alongside Longines and Rolex) for use in space. The Speedmaster was first worn in space by Wally Schirra, one of the original Mercury Seven astronauts, in 1962. The Speedmaster would also be a mainstay of the Gemini and Apollo space programs.
The Speedmaster is best known as the "Moonwatch", because it was used during the maiden Apollo 11 mission and the first wristwatch worn on the moon. (A little known fact is that Neil Armstrong elected to leave his Speedmaster behind in the lunar module. Thankfully Buzz Aldrin decided to wear it during his moon walk.)
Sharp-eyed movie buffs will also see the Omega Speedmaster worn by stars Scott Glenn, Ed Harris and Dennis Quaid in The Right Stuff (1983) and Tom Hanks in Apollo 13 (1995).
There are many variants but the Omega Speedmaster Professional model is the actual "Moonwatch". I wear the more practical Automatic version.
Omega Speedmaster Automatic
Series introduced
1957
Model No
3510.50.00
Case diameter
39 mm
Case thickness
12 mm
Weight
103 grams
Case / strap material
Steel
Case back
Solid
Glass
Hesalite, shatter-resistant
Know for
"Moonwatch", NASA
Omega Seamaster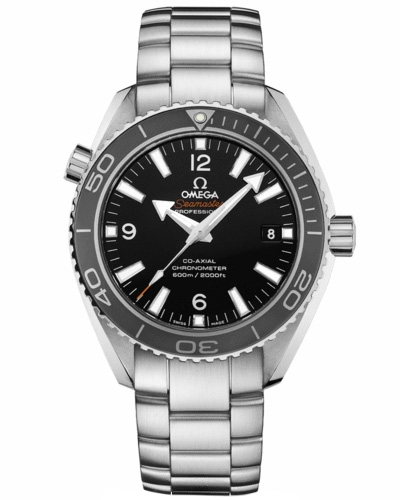 The Omega Seamaster was introduced as a dive watch in 1947.
Nowadays it is impossible to think of the Omega Seamaster without thinking of James Bond. But few remember the Seamaster only became affiliated with 007 in 1995, with the debut of Pierce Brosnan as the iconic super-spy. Until that point, Sean Connery and Roger Moore wore a variety of sport watches, most notably the Rolex Submariner.
The marketing coup by Omega to associate its brand with such a massive film icon was due in part to shifts in the film-making industry. In short, film companies had discovered the magic of product placement, where brands offer millions of dollars to strategically place their products within the story. Rolex, whose watches used to grace many Bond films before 1995, simply wasn't interested. Omega was. And the rest is history.
The Omega Seamaster has been featured in every James Bond film since Goldeneye (sometimes serving as a life-saving gadget, such as an explosive detonator or high-powered laser). You will, of course, catch a quick glimpse of the Seamaster during a number of scenes in the latest Bond flick, Skyfall, starring Daniel Craig.
The Seamaster comes in a variety of models and colors. Mine is the Omega Seamaster Planet Ocean.
Omega Seamaster Planet Ocean
Series introduced
1947
Model No
232.30.42.21.01.001
Case diameter
42 mm
Case thickness
16.3 mm
Weight
195 grams
Case / strap material
Stainless Steel Brushed
Case back
Transparent
Crystal
Scratch Resistant Sapphire
Know for
James Bond 007